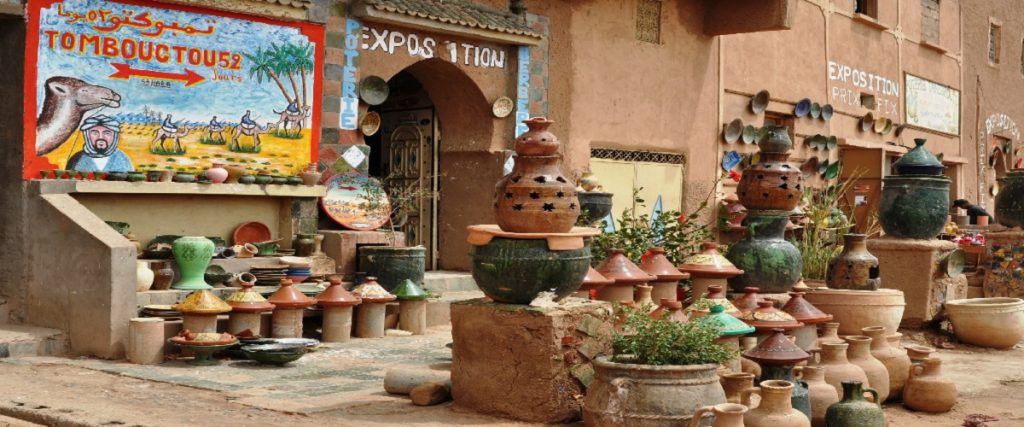 8 Days from Marrakech to merzouga and zagora, visiting Telouet kasbah, skoura Palm grove, Dades Gorges, toudra Gorges, Merzouga, Sahara desert Chegaga.
Day 1: Marrakech – Telouet – Ouarzazate:
Our first day in the tour starts after breakfast, we're starting our excursion early in the morning. We will drive to Telouet Township through Atlas Mountain crossing TiziNtichka. We're visiting together Pacha Glaoui Kasbah in telouet where we'll have lunch meal. In the afternoon we'll go to Ait-Ben- Haddou through the amazing Ounila valley with its Berber villages.
We'll carry on our journey to Ouarzazate. (Dinner/overnight at the hotel).
Day 2: Ouarzazate city – Skoura – Kelaa Ma Gouna – Roses valley – Dades Gorges – Todra Gorges:
In our second Day in the tour we'll leave Ouarzazate and head to Skoura where we'll visit most genius place in southern route of the 1000 kasbahs; Amredhyle Kasbah.
We'll carry on our journeyvia Roses-Valley where we'll drive 50km off-road on Valley paths to arrive Kasbah Ait Youl. Before going to Boulmane. We'll have lunch time on top of Dades- Gorges. We're reaching Tinghir (20km), it has wonderful views, and Toudra gorges Canyons. (Dinner /overnight time in hotel).
Day 3: Todra Gorges – Tinjdad town – Touroug – Erfoud town – Merzouga:
In the third day of we leave from Tinerghir that is full and known of Palm Plantations. Then, we'll drive to Tinjedad where we're having lunch, also visiting the superb Touroug Palm Plantations there. Later,we'll arrive Erfoud to explore local old fossil craft workshop. Next, we'll carry on to the attractive dunes of Erg- Chebbi, Dunes of Merzouga; where we're going to ride camel on dunes to appreciate the sunset on the dunes. We're having dinner & spend overnight on a good nomad tent.
Day 4: Merzouga desert – Khamlia village – Taouz – Ouzina – Ramlia – Mharch:
We're getting up early morning toenjoy the sunrise.Then we go back on camels to the top dunes. After breakfast,we'll drive to Khamlia Township (Gnaoua the fantastic music in the desert). Then, we're going to Taouz town .Afterward, we'll move to Ziz Wadi in the path of Paris-Dakar moving via a small village lost in Ouzina desert. Having lunch break in Ramlia,passing by a very soft sanof wadi Rheris path between mountains that leads to M'harch .Dinner /overnight in hotel.
Day 5: M'harch – Zagora:
After your breakfast, we'll go together to Zagora by the road of Paris-Dakar.We're passing by some special desert plates, seeing hamada's and nomads under Berber tent. Dinner /overnight in Zagora hotel.
Day 6: Zagora town – Tamgroute – Mhamid – Chegaga:
The next day and after the breakfast, we will move on to Tamegroute and visit an old Koranic library « Zaouïa », craftsmen of pottery and Kasbah. Then, we'll go towards Ma-hamid where we'll enjoy together lunch time. At the afternoon, we're going to head to a path that carries out towards dunes of chegaga and watch the special sunset there.
Day 7: Chegaga – Foum Zguit – Taznakhte – Ouarzazate town:
The next morning, we'll get up early to watch such a wonderful sunrise on dunes. Next and after the breakfast, we will start our tour going o Zguit passing by simple and origin Berber tents, dry lake of iriqui and desert plates filled with a Kassia plants (a lunch break). Later, continuing our drive to Ouarzazate via Taznakhte. (Dinner /overnight in hotel).
Day 8: Ouarzazate town – Taourirt Kasbah – Marrakech:
Our last day of the tour starts by discovering Ouarzazate town, Taourirt Kasbahand Cinema Studio. Next,we'll go directly to Marrakech via Tizi -in- Tichka and over High -Atlas- Mountains. Also, enjoying the amazing natural landscapes on roads through Berber towns. Later, we'll arrive to the wonderful red city "Marrakech". At the end of our day journey, we'll drop you off to your lodging.
for mor information please contact us